Syngas for Boilers/Kilns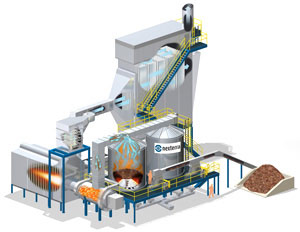 In certain circumstances, pre-existing solid fuel boilers, kilns, dryers and furnaces can be retrofitted to fire renewable syngas in place of fossil fuels. By re-using the existing asset, the overall costs of a renewable energy project can be significantly reduced.
Output: Syngas for existing boilers, kilns, dryers and furnaces
System Sizes: 2 to 40 MWt (8 to 120 MMBtu/hr)
System Efficiency (HHV): 67 – 78% depending on moisture content of fuel
Fuel Types: Wood Residuals, Clean Construction Debris, Biosolids
Fuel Feed: 25 – 250 tonnes per day (bone dry)
Fuel Moisture Content: 6 – 60% moisture
Fuel Size: 7.5 cm (3 inches) or less in all dimensions
Example Projects: Kruger Products Paper Mill
Contact us to see if your existing equipment is a suitable candidate for syngas retro-fit.