Corporate Profile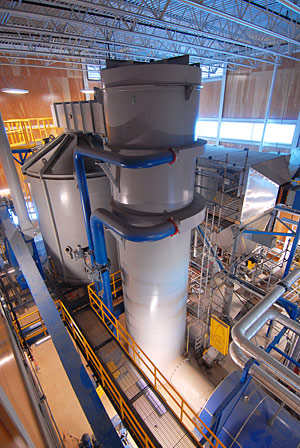 Nexterra Systems Corp. is a leading provider of plant-scale, energy from renewable waste systems that generate energy and fuels for a range of customers, including District Energy providers, Industrial process plants and Independent Power Producers.
Nexterra systems convert local, renewable waste feedstocks into clean burning "syngas" that can be used as a direct substitute for natural gas and other fossil fuels in a range of applications. These systems integrate seamlessly with customer operations, providing both environmental and operational advantages, including high reliability and class-leading emissions performance.
Over the past decade, Nexterra has focused on enhancing and commercializing its proprietary, fixed-bed gasification technology. Recently the company also developed a proprietary syngas cleaning and conditioning system that produces engine-grade gas that can be directly fired into an industrial internal combustion engine – a first in North America.
Nexterra has completed six projects in the USA and Canada with over 125,000 hours of commercial operation. A seventh project is scheduled for completion in 2013. The company has established partnerships to advance its technology and market its products to customers in North America, and is now looking to replicate its systems abroad in markets such as the UK, Europe and Asia.
Our corporate mission is to make the world cleaner and more sustainable by creating valuable energy and chemicals from local, renewable waste. Our goal is to help our customers reduce energy costs and become leaders in sustainability by delivering reliable clean energy solutions.
Nexterra is a private company established in April 2003 that is majority-owned by ARC Financial Corporation, Tandem Expansion Fund and Business Development Bank of Canada (BDC). Headquartered in Vancouver BC, Nexterra has 45 employees and operates a Product Development Centre (PDC) in Kamloops, BC.